AUTHENTICATION Process eGuide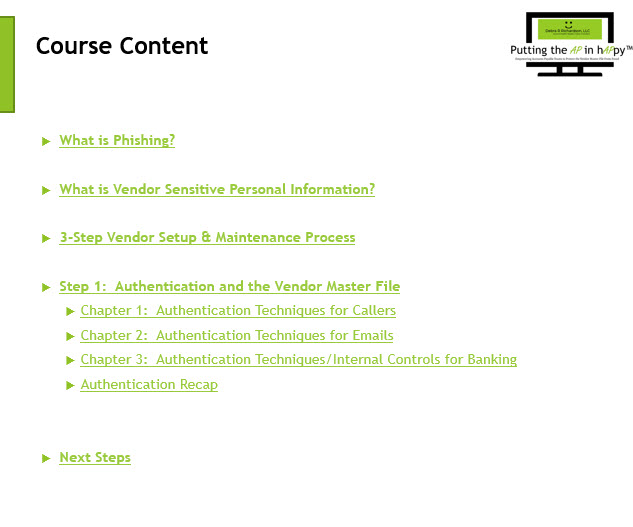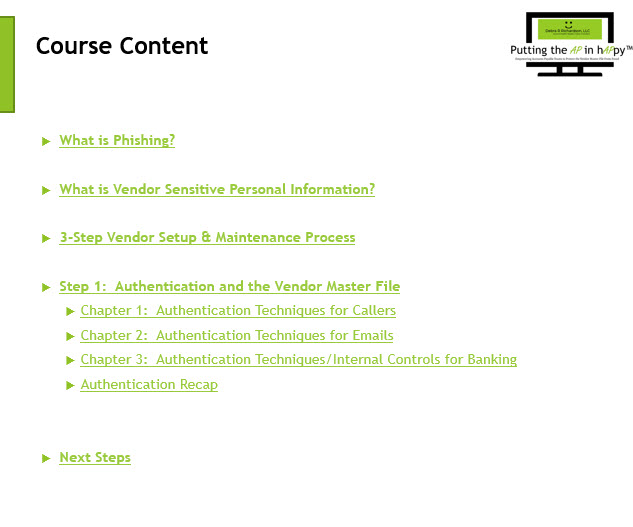 AUTHENTICATION Process eGuide
Need an Invoice? email debra@debrarrichardson.com
Revitalize your Vendor Maintenance processes to protect your company against regulatory fines and prepare your team for today's cybercriminals. Implement authentication techniques to reduce the potential for internal and external fraud.
What You Get:
5 Authentication Techniques

Live Phone Call Scripts

Email Script

Authentication Reference Template
31 Pages
Your company's IT resources have controls in place to protect your systems, but who trains your vendor team to authenticate requests and spot fraud attempts? Today's fraudsters are targeting your vendor team to release vendor sensitive data using phishing and other social engineering schemes through voice and email.

Fill the gap by providing training for you and your team members to reduce the potential for fraud.

Implement internal controls and authentication techniques to protect you and your team members from adding fraudulent vendors or updating existing vendors with fraudulent data in your vendor master file.

Apply a vendor setup and maintenance process that authenticates, validates and manages your vendor master file for valid active vendors.

Supplement vendor portal solutions with these internal controls, validations and authentication techniques where needed.

Nothing is 100% fraud proof, but authentication techniques, internal controls and best practices applied as needed can assist in reducing the potential for fraud in the vendor master file.